---
Editor's Pick:
Honorable Mention:
Newbies:
Soldiering On:
Cubs Sites:
Just Read 'em!
Conglomerates
NL Central
NL East
NL West
AL East
AL Central
AL West
Miscellany
Chicago Sports
News Sources

Sheffield Avenue (Right Field) Rooftops
The original Wrigley Field rooftop directory is now too big for one page, so I've moved the street level pictures to a new page.
I don't have a decent picture of Murphy's or the Cubby Bear.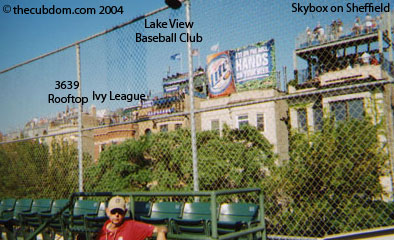 A picture of 3639 Wrigleyville Rooftop, The Ivy League, the Lake View Baseball Club, and Skybox on Sheffield.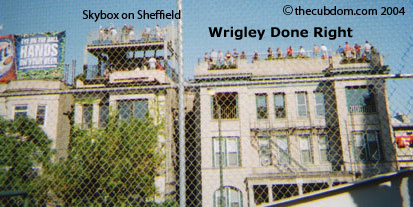 A picture of Skybox on Sheffield and Wrigley Field Done Right (formerly Tailorgators) along the rightfield line.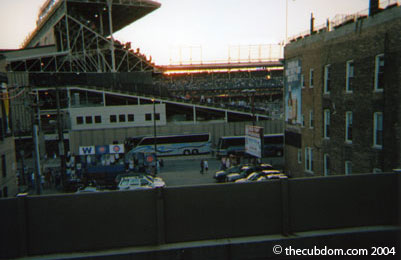 the view into Wrigley Field from the Addison St. "L" station in 2004, this view was blocked in 2008 by the construction of The Sheffield Baseball Club and The Wrigley Field Rooftop Club.
---
The Miller Lite Building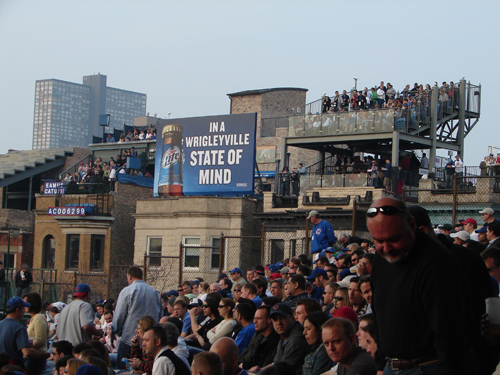 ---

Since Mar 18, 2004
---
OnlineSeats has the very best Cubs tickets during the season for seats throughout Wrigley. We also have unbelievable Bears tickets to every game on the schedule, Bulls tickets to sit back and watch Derrick Rose, and even White Sox tickets to go slumming on the South Side.
---
Cubs Sale Articles
---